ACTIVITY

Zipskyride
Length 652m
Max speed 70Km
Zip-Skyride is a sky activity newly opened in July, 2017. It is a zip line, that lets you can slide in the air from the top of the Hikage area to the bottom. The length is 652m, and the vertical drop is 122m. This is one of the longest zip lines in Japan, and it lets you come in to a beautiful snow world, and enjoy the whole new experience of flying above a snow slope.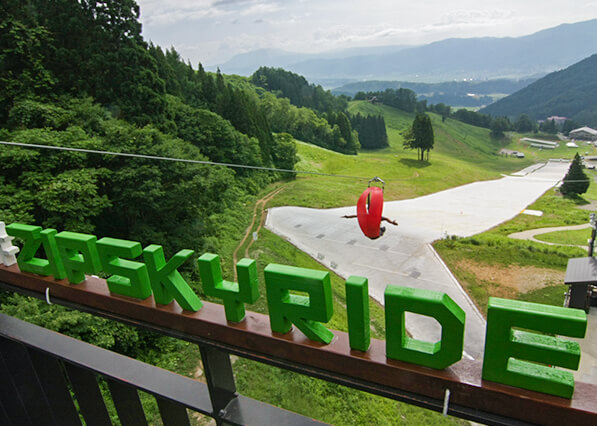 Zip Skyride Video Shooting Service "SAVREQ"
Zip Skyride video recording service upgraded!
AI captures you and tracks you automatically! SAVREQ," which uses a 4K camera and AI auto-tracking function, is a significant improvement in image quality and accuracy over previous filming services!
Take home a souvenir of your Zip Skyride experience as you glide down the Nikage Slopes!
*SAVREQ video shooting service is a paid service. (A fee will be charged when you download the filmed video. You can view sample videos.)
Facility summary
Length:652m / Vertical Drop:122m(Start 794m,Finish 672m)
Maximum height:20m / Max speed:70km
Open hours
【Open days】9:00~16:00 / 3rd of Jun- 5th of Nov
※Open only on weekends through July 9. Open daily from July 14.
※Zip・Skyride may stop operation due to bad weather and maintenance.
Check in
Nozawaonsen Snow Resort [Hikage Information Center]
Fare
| | | |
| --- | --- | --- |
| 1Ride | ADULT:2,000 yen | CHILD:1,500 yen |
| The 2nd ride of the day | ADULT:1,500 yen | CHILD:1,200 yen |
| 1 Ride (Lift ticket available) | ADULT:1,500 yen | CHILD:1,200 yen |
| The 2nd ride (Lift ticket available) | ADULT:1,200 yen | CHILD:1,000 yen |
| Coupon tickets (11 times) | ADULT:20,000 yen | CHILD:15,000yen |
Requirements
Must be elementary school student or order and the weigh between 25kg and 110kg
Children under 12 years old need to join with guardian.
You can book over the phone or via the internet. Walk-ins are also welcome.
Please fill in the form before payment. Persons under 18 years old must have their parent's signature.
Outfit & Belongings
Regular hiking boots are ideal.
Belongings which might fall off during the ride have to be kept in a locker. Lockers are available at the information center.
ZIP-SKY RIDE Information
You must be elementary school student and older. And the weight must be between 25kg and 110kg and

NOT pregnant
NOT intoxicated, drugged
NOT poor health
Person doctor stop to do sport.

Belongings which might fall off during the ride have to be in a locker.
For safety reason, you cannot take photos and videos on your own device during the ride.
If you do not follow the rules in the sports park, that may cause terrible troubles. If our staff see the behavior as a danger, we may cancel your ride. So please follow staff and have a safe ride.
We do not take any responsibility for stolen, lost and broken. Please keep your belongings in a safe area.
For Customers
We ask that you take measures to prevent the spread of the new coronavirus, and that you use the facilities at your own discretion and responsibility, having read and understood the following items.
Customers with any of the following symptoms should refrain from using this service. Please note that depending on the symptoms, we may refuse your use.

Those who have a fever of 37.5°C or higher, or who have a persistent fever.
Those with cold symptoms (fever, coughing, sneezing, sore throat, etc.)
Those with severe lethargy (fatigue) or breathlessness (dyspnea).
Persons who have had contact with a person infected with or in close contact with a person infected with or in close contact with a person infected with novel coronavirus within 14 days.

Please disinfect your hands frequently, wash your hands, and wear a mask.
Please avoid three-density and ensure social distance between customers.
As a precautionary measure against infection, we have implemented the following measures. We ask for your understanding that these measures are taken to ensure the health and safety of our guests and staff.
Checking the physical condition of visitors at the reception desk.
Limitations on the number of visitors and the number of users according to the playground equipment and area.
Regular disinfection of facilities and playground equipment.
Ventilation of information center. (indoor)
Staff wearing masks.